Join Our Webinar Announcements List!
Sign up here to receive email announcements about our webinars. To register for a specific webinar, please scroll further down the page to the Schedule section and click the registration link next to the session that you wish to attend.
* Required fields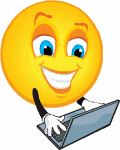 Relative Roots was among the first group of organizations to take genealogy education into the 21st century by offering quality, affordable presentations in the form of webinars (web-based seminars). The core of our webinar schedule is our DNA/Genetic Genealogy presentations, and we periodically offer webinars on additional genealogy topics.
HOW IT WORKS
Attend our live or on-demand webinars from the comfort of your own home! You'll view the presentation using your own computer and listen to the presenter using your computer speakers or telephone. Attendees of our live webinars are able to ask questions just as if you were attending a presentation in-person. Registrants of our on-demand webinars are able to access a recording of our live webinars at a time that is convenient for you.
DURATION
All webinars are scheduled for 1.5 to 2 hours. Approximately 30 minutes of this time is for introductions, questions, announcements, etc.
COST/PAYMENT
Some webinars are free, while others are offered for a small fee. Payment for fee-based webinars can be made via credit card or PayPal account.
REGISTRATION
All webinars, both paid and free, require registration. Each live webinar session is limited to 100 attendees.
ATTEND LIVE OR ON-DEMAND
All webinars are recorded and archived for on-demand viewing. If you cannot attend the live session, you can pre-register for on-demand access to the recording, and you'll receive an email with a link to the recording about 24 hours after the live session ends. Alternatively, you can register for access to the on-demand recording the day after the live session is presented. Recordings will be available through the end of the month in which the session was presented live. For webinars given at the end of the month, the recording is guaranteed to remain online for a minimum of 7 days.
Note to Mac users: You may need to install Windows Media Components for QuickTime by Flip4Mac in order to view our webinar recordings. If you don't already have this program, click here to download.
SCHEDULE
View the schedule below for webinar topics, date/time, presenter, cost and registration link. Check back often for updates and additions, or sign up for our announcements list to receive updates by email.