Join Our Webinar Announcements List!
Sign up here to receive email announcements about our webinars. To register for a specific webinar, please scroll further down the page to the Schedule section and click the registration link next to the session that you wish to attend.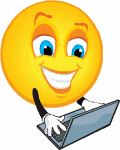 Relative Roots was among the first group of organizations to take genealogy education into the 21st century by offering quality, affordable presentations in the form of webinars (web-based seminars). The core of our webinar schedule has been our DNA/Genetic Genealogy presentations.
Elise, founder of Relative Roots, has now contracted directly with Family Tree DNA to provide an ongoing series of FREE webinars and recorded videos for their customers and the general public.
Family Tree DNA has a new website providing the complete schedule of webinars, registration links and recording links:
http://www.familytreedna.com/learn/ftdna/webinars/
Thank you to those who supported Relative Roots for the nearly 3 years that we offered these webinars! Elise looks forward to continuing to provide genetic genealogy webinars/education directly through Family Tree DNA.