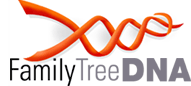 Welcome Family Tree DNA Customers!
Relative Roots and Family Tree DNA have partnered to offer quality, convenient and affordable genetic genealogy education to Family Tree DNA customers.
HOW IT WORKS
Attend our live or on-demand webinars (web-based seminars) from the comfort of your own home! You'll view the presentation using your own computer and listen to the presenter using your computer speakers or telephone. Attendees of our live webinars are able to ask questions just as if you were attending a presentation in-person. Registrants of our on-demand webinars are able to access a recording of our live webinars at a time that is convenient for you.
DURATION
All webinars are scheduled for 1.5 hours. The presentation itself lasts about 1 hour and the other 30 minutes are used at the beginning and end of the session for introductions, questions, announcements, etc.
COST/PAYMENT
Some webinars are free, while others are offered for a small fee. Payment for fee-based webinars can be made to Relative Roots via credit card or PayPal account.
DISCOUNT ON FAMILY TREE DNA TESTS!
Webinar attendees will receive an exclusive, limited-time discount on their next purchase from Family Tree DNA.
REGISTRATION
All webinars, both paid and free, require registration. Each webinar session is limited to 100 attendees.
WEBINAR OFFERINGS
The following webinar titles are currently offered for Family Tree DNA products:
Introduction to Genetic Genealogy at Family Tree DNA
Genetic Genealogy Demystified: Reading and Understanding Your Family Tree DNA Results, Part 1: Y-DNA
Genetic Genealogy Demystified: Reading and Understanding Your Family Tree DNA Results, Part 2: mtDNA
Genetic Genealogy Demystified: Reading and Understanding Your Family Tree DNA Results, Part 3: Family Finder
For complete details about these webinars, including the schedule and registration, please click the "Register Now" button below to visit our main Relative Roots Webinars page: